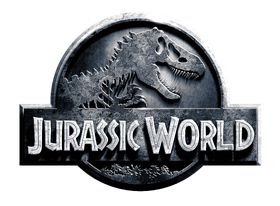 Jurassic World
is one of the many
franchises
featured in
LEGO Dimensions
. It is based on the 2015 film of the same name, which is the fourth installment in the
Jurassic Park
franchise.
Background
Twenty-two years after the events of Jurassic Park, Isla Nublar, off the coast of Costa Rica, now features a fully functioning dinosaur theme park, Jurassic World, as originally envisioned by John Hammond. This new park is owned by the Masrani Global Corporation. Owen Grady, a member of the park's on-site staff, conducts behavioral research on a group of velociraptors, known as Blue, Charlie, Delta and Echo. At the corporation's request, the park's geneticists create a hybrid dinosaur known as Indominus rex (created from the DNA of Giganotosaurus, Rugops, Majungasaurus, and Carnotaurus) to boost visitor attendance. Claire Dearing is the park's operations manager. Her nephews, Zach and Gray, are visiting the island when the hybrid escapes and are subsequently caught up in the creature's deadly rampage. Now, it is up to Owen and Jurassic World's security team to contain the hybrid dinosaur before she can cause more damage.
Related Character/Objects
Non-Playable Characters
Trivia
This is one of the franchises to have all the characters' respective actors reprise their roles. The others are: Adventure Time, Portal 2, and Scooby-Doo!.

Of all of these, this is the only theatrical film.

Along with Back to the Future, Jurassic World is the second franchise in LEGO Dimensions licensed by Universal Studios.
Jurassic World is one of the three franchises without a Story Mode level. The other ones are Legends of Chima and The LEGO Movie.

It is also the only franchise without any involvement in the story mode, besides a minikit design.

When you rise on the central place of the park Jurassic World, there will be a voice from no-where who said "When we remember what happening in the last park, we are not asking what is wrong here!" This is a reference of during the events of Isla Nublar from the first Jurassic Park movie of 1993.
Jurassic World and Portal 2 are the only franchises in LEGO Dimensions to be named after and focus on a sequel rather than the franchise in general.
Gallery
Community content is available under
CC-BY-SA
unless otherwise noted.