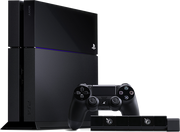 The 
PlayStation 4
 (officially abbreviated as 
PS4
) is a home video game console from Sony Computer Entertainment. Announced as the successor to the 
PlayStation 3
 during a press conference on February 20, 2013, it was launched on November 15, 2013 in North America, and November 29, 2013 in Europe and Australia. It competes with Nintendo's 
Wii U
 and Microsoft's 
Xbox One
, as an eighth generation of video game consoles.
Departing from the more complex Cell architecture of its predecessor, the PlayStation 4 features an AMD x86-64 Accelerated Processing Unit, in hopes of attracting a broader range of developers and support for the system. The PlayStation 4's GPU can perform 1.843 teraflops. Sony calls the PlayStation 4 "the world's most powerful console", and speaking to Edge magazine, numerous game developers described the performance difference between the PS4 and Xbox One as "significant" and "obvious".
The console enables interactivity with other services and devices through the PlayStation App, designed to enhance gameplay by using iOS and Android mobile devices; PlayStation Now, a cloud-based subscription gaming service that offers streaming video game content; and wireless Remote Play, a feature that enables users to activate the PlayStation 4 from a distance away, in order to continue playing on a secondary screen, such as PlayStation Vita, a Sony tablet or smartphone.
Sony has placed emphasis on social gameplay. The new controller incorporates a "share" button, enabling the capture of screenshots and video. Players can broadcast or spectate gameplay streamed live, and a feature named Share Play allows users to invite a friend to join a play session, even if they do not own a copy of the game.
Trivia
Supergirl is currently only obtainable in the Starter Pack for the PS4, however it is possible that she will release for every console sometime in the near future.
Community content is available under
CC-BY-SA
unless otherwise noted.