Rex Fury
Character Information
Name
Rex Fury
Gender
Male
Franchise
LEGO City: Undercover
Weapons/Accessories
None
Vehicles and/or Gadgets
None
Occupation
Criminal
Residence
LEGO City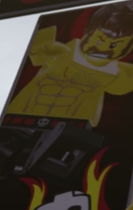 Rex Fury is one of the non-playable characters in LEGO Dimensions, from the LEGO City: Undercover franchise.
Background
Rex Fury is the main antagonist of LEGO City: Undercover. He was known a criminal ever since he was 6. During Chase's first year as a Police Officer of the LEGO City Police Department, he was assigned to find Rex. Rex then fought Chase on a moving truck, before Chase put a stop to the fight by throwing him off the vehicle. Rex was then sent to a cell in Albatross Prison.
After a few years, Rex Fury escaped from Albatross Prison. The Mayor then assigns Chase to find and arrest Rex Fury again. Rex confronted Chase multiple times then fought him in a spectacular battle at the debris of a space station that was plummeting back to Earth. He was then held under police custody and sent back to Albatross Prison after he crash landed on a roof.
Trivia
He was revealed on a billboard image in the Ghostbusters (2016) Story Pack alongside the Weightlifter from Series 2 of Collectable Minifigures.
It is unknown if the voice actor for Rex Fury will return to voice him in the game.
Gallery
,
Community content is available under
CC-BY-SA
unless otherwise noted.